Witney East By Election August 25th 2022
A By Election has been called for Witney Town Council - Witney East Ward with a deadline of nominations was the 29th July with a planned polling date of 25th August.
Sandra Simpson has been selected as the Green Party candidate in the by-election for the Witney East Ward of the Witney Town Council.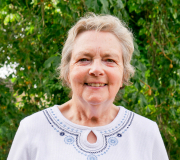 Sandra has lived in Witney for over 20 years, having previously lived in rural Bedfordshire with her family .
She was a lecturer for the Open University and the University of Hertfordshire where she was Head of Continuing Studies, supporting mature students. She has also taught In prisons and helped unemployed people in Witney and Oxford with English, Maths and preparing their CVs.
As a volunteer she :
was an active member of a local parent-run playgroup
taught lifesaving at her children's swimming club .
is a qualified bowls coach.
is an active member of several wildlife groups.