Oxfordshire County Council funds
study of new transport links to Witney
At a meeting on January 18th, Oxfordshire County Council approved funding for a feasibility study of the Oxford-Eynsham-Witney-Carterton railway line. This is a hugely hopeful development, and a testament to the change Green councillors can make in local government.
The West Oxfordshire Green Party has repeatedly called for an integrated transport system in the district, giving inhabitants of our towns and villages a convenient, affordable and healthy alternative to their cars. A rail link between Carterton, Witney and Oxford would be a vital part of that system.
Andrew Prosser, West Oxfordshire District councillor, said:
"It is important to maintain the pressure to reduce our carbon emissions and to improve the air quality in our towns. A radically improved public transport system has to be one of the cornerstones of any actions to tackle these problems.
We will work hard to make it easier for everyone to reduce the use of their cars and help to reduce congestion. There is no doubt that a safe, quick and convenient rail link from Carterton and Witney to Oxford would be a major step forward."
The study will be conducted by an independent professional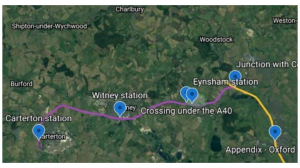 rail consultant and is expected to be completed in three months. Engineers and transport planners will look at all options for route, stations and the type of transport. Alternatives such as trackless trams may be part
of the mix. A cross between a train, bus and tram, these vehicles are longer than buses but run on a normal road surface, using cameras to follow painted guidelines. Powered by batteries, they currently have a range of around 40km and can re-charge in just 10 minutes.
Meanwhile, the West Oxfordshire Green Party supports the call by the Witney-Oxford transport group for the authorities urgently to protect land which might be crucial for the possible rail-link route in the future.
Previous Conservative-led administrations at the district and county councils had failed to support even a study into the feasibility of this new rail ink. Robert Courts MP puts his faith in widening the A40. Widening roads leads to more cars on the road, not an end to congestion, and is certainly no way to tackle carbon emissions.
To add to the existing demand on transport, thousands of new homes are planned for West Oxfordshire to satisfy the housing needs of Oxford City. The resulting increased traffic will potentially overwhelm the A40 and A4095, pumping out millions of extra tonnes of CO2 and other noxious gases.